Featured product
Sea Turtle Monogram iPhone 6 Case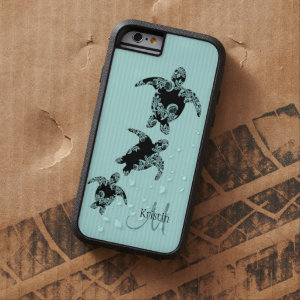 Tomorrow is World Turtle Day! Sea Turtles around the world are facing various threats, including pollution and loss of nesting habitat. Let's honor these amazing creatures on their special day. Today's featured product is a stylized sea turtle design on an iPhone 6 case. The turtles swim before an aqua stripe background. The case is customizable with a perfect spot to place your name and last initial. This is a pretty and stylish case that would make a great gift for any turtle fan!
Buy / Customize
Case-Mate Barely There iPhone 6 Case
This form-fitting featherlight Case-Mate custom case provides full coverage to your iPhone 6 with 4.7 inch screen while still keeping your device ultra sleek and stylish. Designed for the iPhone 6 with 4.7 inch screen. Slim profile and lightweight and made with impact resistant, durable hard plastic.
(Featured on 22 May 2015)